The Akwadum  School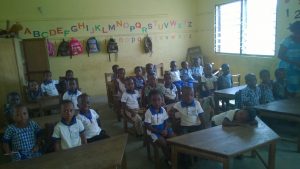 The Akwadum Centre school provides pupils with good quality education who cannot afford private education. There are governmental primary schools in Akwadum but they lack the facilities to help children to learn adequately.
The governmental school children normally achieve low BECE results, which is not good enough to get into very good secondary schools. As a result, most parents are forced to send their children to private primary schools.
Most private primary schools charge from between 300 to 500 Ghana cedis per term. Most villagers can't afford this so they are forced to send their children to governmental schools. However, the children in most cases leave these schools without being able to read or write.
At Akwadum Centre School, we acknowledge the problems of the parents and as a charity we are charging a minimum fee to help pay the wages of the teachers in order to give the same level of education as the private schools.
The parents are only paying 60 Ghana cedis per term. The rest of the fees is being subsidised by the people of Christ Evangelical Church.